Workshop in a Cupboard
WORKSHOP IN A CUPBOARD-(1455mm WIDE)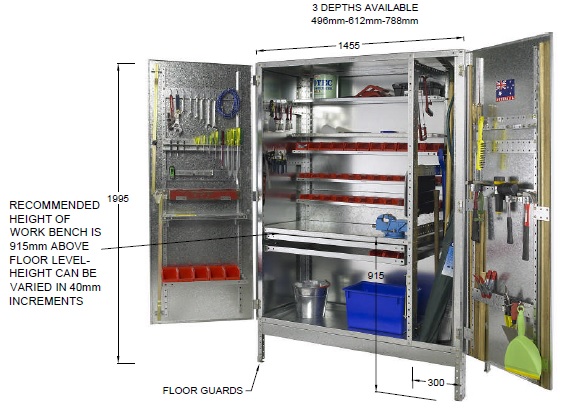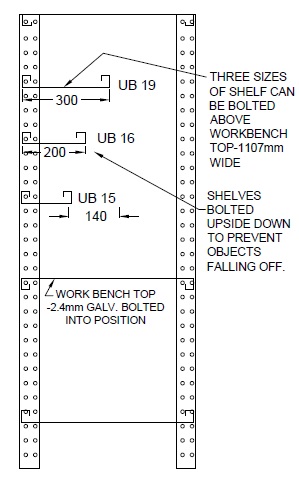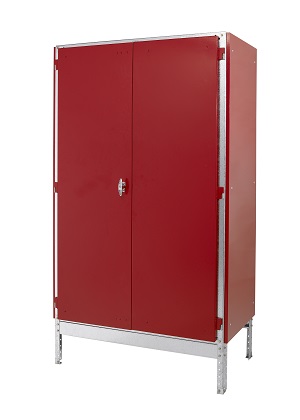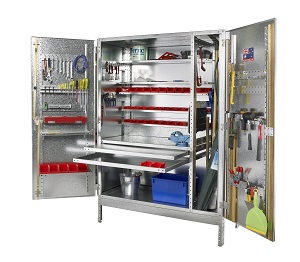 REF No.
U15
U16
U17
HEIGHT
1995mm
1995mm
1995mm
WIDTH
1455mm
1455mm
1455mm
DEPTH
496mm
612mm
788mm

PRICE UNASSEMBLED WITH
HEAVY DUTY WORKBENCH TOP
& GALVANISED FINISH
ACCESSORIES & POWDERCOATING EXTRA

$950
$985
$1040

PRICE ASSEMBLED WITH HEAVY
DUTY WORKBENCH TOP
& GALVANISED FINISH
ACCESSORIES & POWDERCOATING EXTRA

$1025
$1060
$1115
ALL PRICES INCLUDE GST
FEATURES
* WORKBENCH IS FITTED INSIDE OUR STANDARD CUPBOARD
* STANDARD FINISH IS GALVANISED STEEL
* POWDER COATED FINISH IS AVAILABLE - 10 COLOURS (NOTE, ONLY DOORS & SIDE PANELS ARE POWDER COATED-THE FRAME IS GALVANIZED.) - PRICE: $95.00
* ADJUSTABLE SHELVING CAN BE MOUNTED AT THE REAR ABOVE THE BENCH TOP
* VARIOUS MOUNTING BRACKETS AVAILABLE FOR MOUNTING TOOLS, EQUIPMENT, PLASTIC BINS ETC.
* DRAWERS CAN BE FITTED BELOW THE BENCH TOP ($71.00 EACH INCL. GST)
* SECURITY FOR TOOLS & EQUIPMENT STORED IN OPEN WAREHOUSES & FACTORIES
* STOPS UNAUTHORISED BORROWING OF TOOLS & EQUIPMENT.
SHELF PRICES
CAT No.
UB 15
UB 16
UB 19
UB 0
UB 30
SIZE

1107mm
x 140mm

1107mm
x 200mm

1107mm
x 300mm

533mm
x 140mm

533mm
x 200mm

PRICE
(BOLTS
INCLUDED)

$17-10 ea
$19-00 ea
$24-00 ea
$15-00 ea
$16-00 ea
ALL PRICES INCLUDE GST
NOTE: SHELF SUPPORT BRACKETS ARE INCLUDED
WITH UB23 & UB24 SHELVES (CAT No. AB5)
Images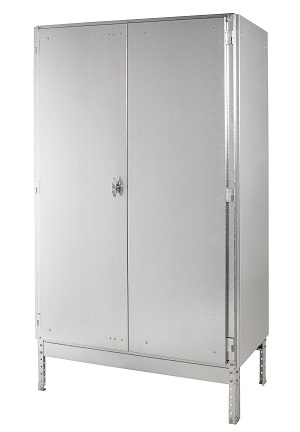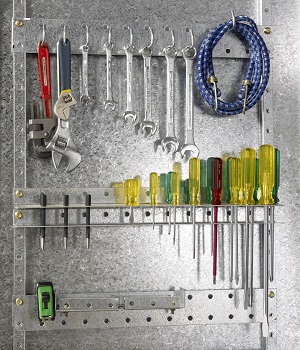 \