Quick-Adjust Shelving
THE ULTIMATE LOW COST, VERSATILE SHELVING SYSTEM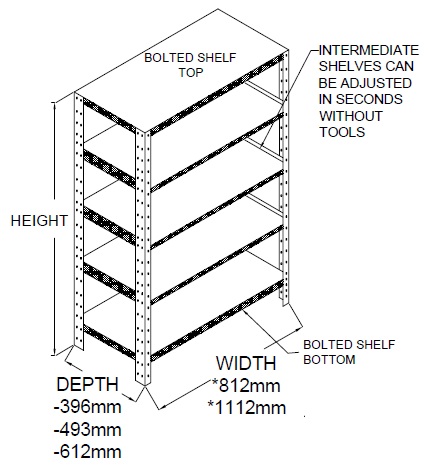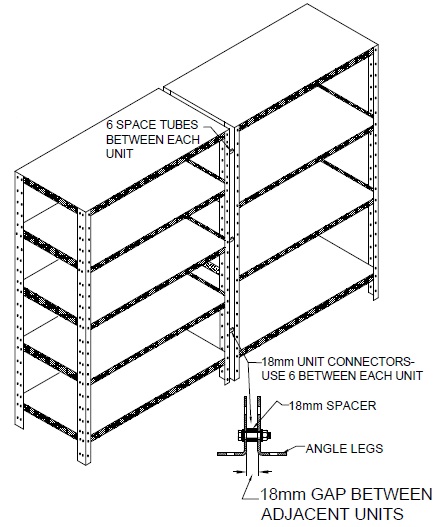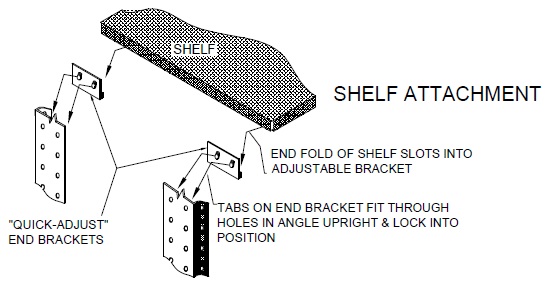 "QUICK-ADJUST" SHELVING IS SUITABLE FOR BOTH COMMERCIAL AND DOMESTIC USE, WHETHER IT BE IN A LARGE WAREHOUSE, OFFICE OR GARDEN SHED. THIS TYPE OF SHELVING HAS NO BACK OR SIDES. THE TOP AND BOTTOM SHELVES ARE BOLTED INTO POSITION AND ARE SEMI PERMANENT. ALL INTERMEDIATE SHELVES CAN BE ADJUSTED EASILY BY REPOSITIONING THE END BRACKETS.
*FLOOR GUARDS OPTIONAL EXTRA.
*GALVANISED OR POWDERCOATED.
SHELF SIZES
HEIGHT*
WIDTH
DEPTH

1785

2383

*HEIGHTS CAN
BE VARIED

812

393

496

612

1112

1412

1712

393

496

612