Van Shelving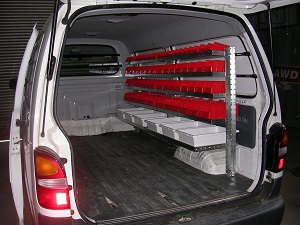 *SUITABLE FOR A LARGE NUMBER OF COMMERCIAL VEHICLES. OUR DESIGN ALLOWS FOR EASY SELF INSTALLATION.
*SYSTEM IS FULLY ADJUSTABLE.
*VERTICAL ADJUSTMENT CAN MAXIMISE USE OF YOUR VEHICLE HEIGHT.
*HORIZONTAL ADJUSTMENT CAN FOLLOW CONTOURS OF YOUR VEHICLE, CREATING MORE AISLE SPACE.
*HEAVY DUTY SHELVES SUPPORTED BY HEAVY DUTY ANGLE UPRIGHTS & FITTINGS.
*STORAGE BOXES AVAILABLE.
*AUSTRALIAN MADE.
SHELF
STORAGE BOX
CAPACITY PER SHELF
812x180
A2
8
812x220
A3
6
812x280
A4
4
812x400
13ltr.
2
1112x180
A2
11
1112x220
A3
8
1112x280
A4
6
1112x400
13ltr.
3
LONGER SHELVES AVAILABLE WITH MINIMUM ALTERATION
UPRIGHTS

HD ANGLE (SINGLE)
905-1785mm

FLOOR
GUARD SET

HD ANGLE (DOUBLE)
905-1785mm
INCL. 3 NUTS & BOLTS

UPPER
ANCHOR
SET

ALLOW 4 NUTS & BOLTS PER SHELF
Images